Once again an interesting week. I went to Ecuador (yes, go and look it up on Google maps, it is the top left hand side of South America – I had to too) and spent longer in the planes than on the ground. Jo was more fortunate and stayed in Paris.
As usual, it was a customer presentation that was needed and a very short space of time to actually present it. My colleagues were there from last Monday but my presentation was scheduled for Thursday. Which is perfect timing when you are trying to move the contents of an apartment and a house into a third house whilst trying to ensure that we are not homeless for some point in the proceedings. However I was finally convinced that I needed to go and tried to get a suitable flight ('suitable' in this sense means one that will earn loads of air-miles). Our travel department informed me that my preferred flight from Paris through Houston and down to Quito in Ecuador was 4 times the cost of a similar one on American Airways – difficult choice…..
So I left Paris on Wednesday morning at about 10 and flew to Miami, arriving 10 ½ hours later to be thrown into US immigration and a half hour wait to get my passport stamped with a transit visa. Great.
3 hours later we left Miami at dusk where I took this photo soon after take off: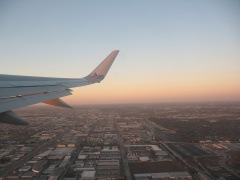 And this one soon afterwards: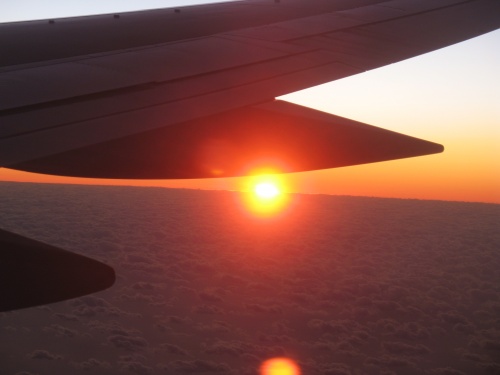 Nearly 4 hours later we arrived at Quito which is very close to the equator – so it should be hot, right? Err…..no, not when you are 2880 metres up. I was surprised to find that it was around 12°C when I arrived at about 9 in the evening local time and about 3 in the morning Simon-time. Immediate bed was called for.
I woke the following morning at about 5 and then got up – probably one of the first times I can remember doing that voluntarily…This photo shows the view from the hotel window and how Quito is surrounded by mountains towering up to 5000m.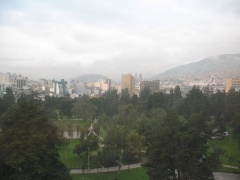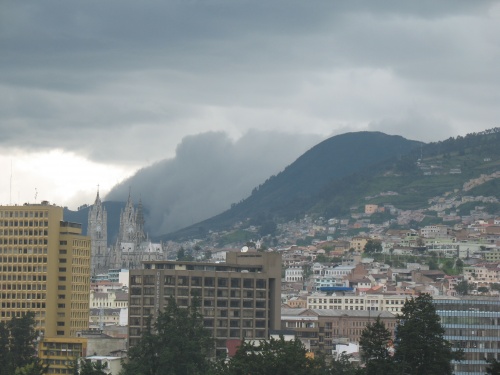 The hotel cafe has an interesting name, however I was informed that the critical part is the barely discernable accent on the 'o' which changes the word from the similar one in English (and the same meaning) to the name of the man that most of the Anglo-Saxon world knows as Christopher Columbus. Eye catching though!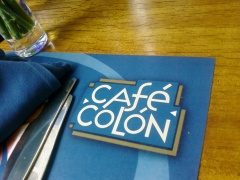 We had an initial meeting and walked back from the office to the hotel and I took the local scenery here: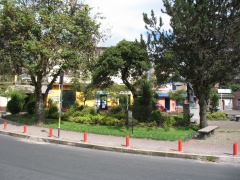 And here where the mountains appear to be at the end of the street: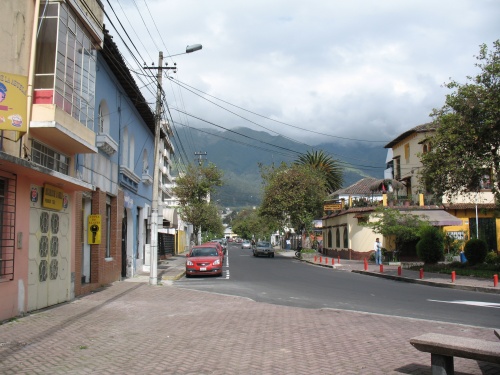 One more afternoon meeting and then to the hotel and bed. The following morning I was back on the plane to Miami, a 4 hour stop over there and another 10 hours back to Paris. 
Total time in Quito: 37 hours
Total travel time: 34 hours
Nights sleeping in airplanes 1 + ½ 
At least Miami produced a genuine copy of the National Geographic to bring back for Jo to balance the joys of glamorous international travel. I enjoy travelling but some trips are better than others….!
Simon