One evening last week we braved the cold and foul wet weather to go and see the lights (like moths drawn to the bright lights?). Since we are in Paris, there is only one place to go to see the lights and that is the Champs Elysées – actually Paris has lights all over the place including lots of smaller streets in less tourist areas and even a website to help you www.parisillumineparis.fr. 
It is a swift métro ride for us from the lower end of the line 13 up to Clémenceau on the Champs Elysées itself where we found a winter fair in action. Actually this wasn't as good as the one we had visited the previous day at Reims after we had seen the cathedral. Mind you, it wasn't as cold either since Reims was hovering around freezing, Jo was merely hovering in between cups of hot chocolate and cidre chaud – vin chaud but made with french cider (a bit odd actually). Paris was slightly warmer and much wetter since a fine drizzle was falling.
At the bottom end of the winter fair there was a stand selling tartiflette in a huge pan the picture gives an impression of size but it was probably 2m across and full of bubbling food.
The next photo was a close up – tartiflette is a mixture of potatoes, cream, cheese and bits of bacon and wine and comes from the Savoy area of France. This link http://www.cuisine-french.com/cgi/mdc/l/en/recettes/tartiflette_ill.html gives an example of a recipe but on a slightly smaller scale.
On this photo the circular items are entire cheeses…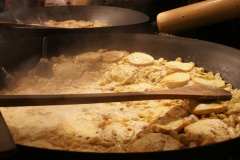 After looking longingly at this stand (doing very good business) but having already eaten that evening (trying to avoid becoming fatty boom-bars) we passed onwards.
The lights were stunning – the Champs Elysées has an inner row of trees next to the traffic and an outer row set further back.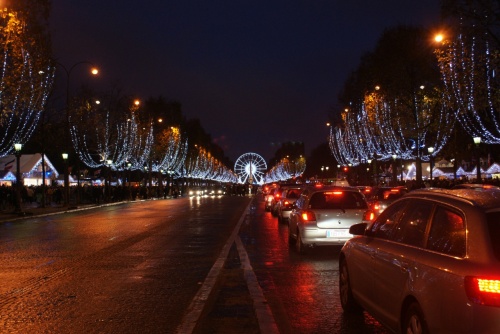 The inner set can be seen in this shot  looking down towards Place de la Concorde and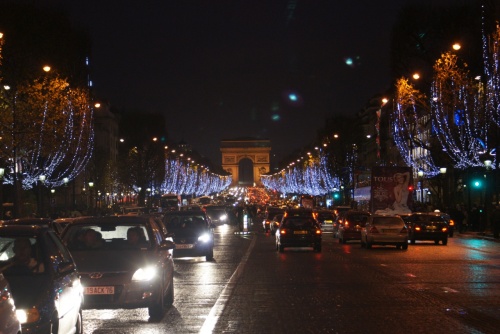 this one is looking back up towards the Arc de Triumph.
We slowly walked up the avenue  looking in the exclusive and not so exclusive shops on the street and in the arcades leading off. I found something that I remember from many years ago – one of the arcades posseses a water clock which operates using water to fill and empty a super chemistry set of pipes, pipettes and containers. And no, I can't remember which arcade it was, only that it was one of the ones at the lower end on the north side. Go and look for yourself!
At the Arch itself, we came up in the middle after marvelling at the drivers playing dodgems around the outside (must write an article on this one day) and found that a military ceremony was taking place – this one was taken from under the arch itself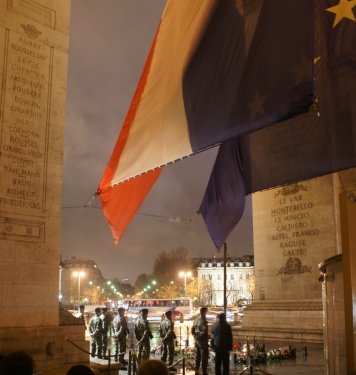 x
and this one looking back down towards Concorde .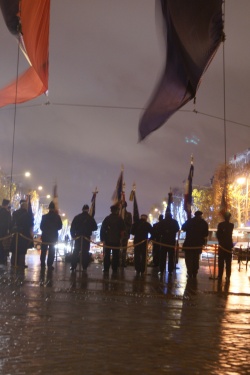 This one is not too sharp because it was windy and the shot was 1.3 seconds long!
An interesting evening but cut short by the temperature and a desire to return to our nice warm flat!
Simon & Jo